For many years I have painted with acrylics, enjoying its versatility and the readily available materials. I have also explored working with other media – including oils, chalk pastels, watercolours – before becoming aware of encaustics.
Encaustic painting dates back thousands of years. My earlier art experiences have laid a foundation on which to build new dimensions of expression with my discovery of this sensual medium.
The most frequent question asked about an encaustic painting is its stability and reliability. It is as durable as any other 'well-cared for' media (oil, acrylic, watercolour and wet-felted fibre paintings, etc).
More recently I have used a very different medium for painting, using fibres of many varieties. Apart from the use of sheep and goat wool, I use wool from baby camels, llamas, yaks, etc, as well as silk fibres. To ensure my work is long lasting, I use the wet felting technique to bind the fibres together.
Many of my students who are fearful of painting with acrylic, watercolours or oils have enthusuastically taken to fibre painting. The financial outlay is minimal as they use 'painting' techniques to develop their work with wool and other fibres.
My artistic aim is to stimulate feelings of curiosity, warmth and joy.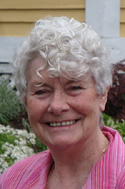 Originally from Manitoba, Linda is a self-taught painter now making her home in Lunenburg. Her artistic career began with theatrical backdrops for which she gained public recognition with a number of awards from the Community Theatres of Ontario and the Arts Council of Halton Hills, Ontario.
In addition to numerous solo and joint art exhibitions as well as juried shows in Ontario and Nova Scotia, a large exhibit of her work has been displayed in Japan. Linda's original art work can be found in many countries. One of her paintings hangs in the Ontario Legislative Library in Queens Park, Toronto. She has also illustrated a children's book and has painted the covers for six other books.
Linda teaches acrylic, encaustic and fibre painting art in her Lunenburg studio. Details may be found under 'Workshops'.